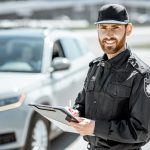 Michael "Mickey" Smith began his career in law enforcement in November 1998 with the Jackson County Sheriff's Department. He graduated from the Tennessee Law Enforcement Training Academy in February 1999.
In August 2002, Officer Smith came to work for the Gainesboro Police Department where he continues to serve the citizens of Gainesboro.
Ranked high among his numerous accomplishments are the coveted S.W.A.T. and police diver certifications.
As a testiment to his passion for community service, Mickey is a very active member of the Jackson County Rescue Squad and is the current Jackson County 911 Director.