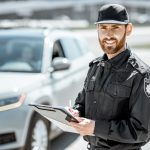 Officer Joey Roden began his career in law enforcement in June 2007 with the Jackson County Sheriff's Department as a corrections officer. In August 2009, Joey put himself through the Walter State Community College, Division of Public Safety and graduated in March 2010. He worked as a police officer at Tennessee Tech University until April 2011.
Joey came to work at the Gainesboro Police Department when he was hired part-time in August 2011 and continues to faithfully serve the citizens of this town.He is retired from the United States Army where he served with distinction for 20 years from 1985 until 2005. Joey is a hard-working member of this team and a welcome addition.
On January 4, 2013, Joey was transferred from part to full-time status.